June's Tip of the Month – A Step Pad – what's that!!!!!!!!!!
This item is another nugget of gold and is worth purchasing!!!!!
Its called a StepPad –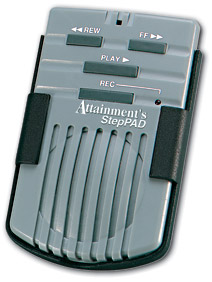 – and can be purchased by a company called Inclusive Technology – click on the link on the links page!
What does it do??
No bigger than a mobile phone and easy to clip onto a belt or waist band and cheaper than a mobile phone as well at £20.00 this is a must!!
When Samuel has to follow a sequence of instructions or tasks he finds this very difficult and often loses his concentration very quickly leading to frustrations!! Post It Notes are good but he tends to loose these as well.
A StepPad is easy to use and is ideal for any age. It is designed so that anyone can record their voice starting from the beginning of a sequence or instruction to the end. Each day I record in steps what is happening the next day for Samuel to hear so that he knows what is occuring and where we might be going. There is a rewind and fast forward button which Samuel can press to play different instructions or messages. To record your own voice you just press and hold down the REC button and away you go!!!
The good thing about this device is that it finds the next step for the child and no instruction can be deleted unless you press the REC button a certain way.
Ideal for your shopping list!!
Yes all the family have used it – Sam often records his own voice on it and sends messages to me, I took the StepPad on holiday with me and listened to Sam talking away on it!! And intsead of all those shopping lists you can easily record your list on this!!
Recommended and worth every penny – 10 out of 10!!!!!!
May's Tip of the Month – Gardening
Well I believe I might have solved one of my families main problems at the moment – STRESS!!!!.

Yes – really – and the answer is Gardening for the whole family.
About 2 weeks ago I rang a chap in charge of a local Allotment Area just down the road from our house. Usually for these precious sites there is a Waiting List but on this occasion I was asked to pop down the next day to have a look at a possible plot which was becoming available.
Taking along Nana with me as my husband was away having a relaxing respite few days down in Devon we went down early the next day.
Which plot to choose??
Well the chap showed me 3 plots – the first was a mini wood!!!!! The second was not bad but still had remains of a crop of Leeks on it and the earth was covered in weeds, but the third was the best and had no weeds and had been rotivated over already!! Of course I chose the weed-free rotivated plot which just needed to be dug over.
Allotment, Garden or Patio??
Now I am not expecting you all to go and get an Allotment – this is not practical for everyone and is time consuming. You don't even have to have a garden to be able to grow fruit and vegetables these days, with the selections of pots, tubs and grow bags on offer in Garden Centres there are loads of options available and for those of you who are saying "I never have any luck with growing, everything always dies" there are sturdy items you can grow which will pop up in any environment. Check out my Links Page for a great Gardening Site for Children.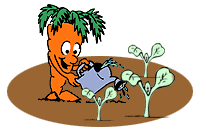 Good things to grow for children are SunFlowers – they are very easy and you just need a pot, compost and away you go! Very sturdy and fun to watch as they can grow very high! Just need some good supportive canes. Carrots can be grown along in a deep tub and Potatoes can even be grown in old wheel tyres!!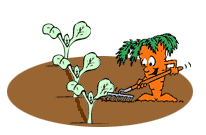 What to grow??
I am no expert at this and have never grown a single vegetable but our trip down to the local Garden Centre for the first time ever was a calm experience with Sam and Grace each having their own Gardening List of seeds to buy, gardening gloves and fork/spade.
We all decided what vegetables and fruit we liked to eat – now I thought this was going to be hard for Sam as he normally hates any type of vegetable but he did choose Peas, Strawberries and Grace chose Sprouts, Pumkins and Wild Flowers.

They have a small area each to themselves away from the main plot where they can feel abit more responsible and can watch their seeds grow.
What will we get out of it??
Trying to find an interest for Samuel is very difficult as he does not have a lot of concentration to be able to sit or stand for very long. Also a lot of hobbies etc involve others/teams and he does not mix well in a group.
When I showed Sam and Grace the allotment for the first time they spent half an hour just running around putting their fingers into the earth and feeling the texture of it and the smell! Sam found worms and bugs and even found loads of different pieces of pottery which he lined up all in a row while continuing to excavate for more!


For me and Lester the allotment will be a place where we can go to de-stress and gather our thoughts. Gardening is very theraputic, it gives you more patience in dealing with situations/problems and I must say that since I have been digging, hoeing, planting and watering I have been more relaxed within myself which helps when tackling the next battle/argument at home!
The only downside that I can find is that you will have mucky children and clothes! But hey what's abit of muck these days…
For Sam Gardening is a lifeline of Hope, Confidence, Patience, Happiness and Achievement which he is gaining without a struggle. When Sam planted his Carrot Seeds for the first time his Self Esteem rose. He waters them when he visits which is giving him and Grace some responsibility.
Every day another seed has grown a little higher and like a child you can watch and enjoy the different stages of their lives and feel rewarded in your achievements as parents.