Lynette's Book Review
This is one article I have been trying to do for ages and I can only apologise for the delay but finally here it is!!!! Do bear with me as I list each book I have, I will keep adding to this article.

I will always remember the feeling of anxiety when I was standing in a book shop in Horsham looking at the endless book shelves filled with various children's disorder/special needs books wondering what on earth I should buy!!
Being a mum when told your child has a problem you go out of your way to research and find a solution or answer and I found myself buying book after book so that I could understand my son more.
Having purchased and read a lot of books on Tourettes when Samuel was first diagnosed I have now got a good collection – some of them are excellent and are easy to read, others are more for the professional health sector and are not explanatory!!
Hopefully this review will guide you so that you can decide more easily on which book to buy for yourself and your family plus you can save some pennies and not do as I did and spend most of my first weekly Carers Allowance on books, books and more books!!!
If you want to buy one of these please click on the link which will take you directly to Amazon where you can order easily.
If you have bought a related book that you think is good or not then please email me with your review and I will post your comments!!
Happy Reading!!!
lynette xx
Why do you do that??
A book about Tourette Syndrome for children and young people by Uttom Chowdhury and Mary Robertson, published by Jessica Kingsley – ISBN No 1-84310-395-8. £9.50 new.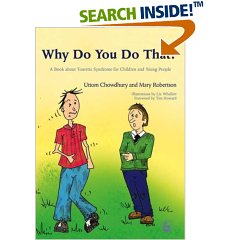 Amazon
What's it like??
This is an easy all rounder for everyone in the family to read especially for siblings and grandparents. I bought this for my daughter Grace because it has lots of children's own personal views about how they feel about having Tourettes and by reading other people's stories she could possibly understand her brother more about why he does and says different things. There is also a chapter dedicated to siblings.
From a parent's point of view the book is laid out simply explaining briefly what Tourettes is and covers all types of questions that a parent would have when faced with a diagnosis.
This book would also be suitable for a TS sufferer, as young as 10 could read it. The various chapters cover school worries, exams and bullying.
Is it just a lot of medical jargon???
No, definately not, which is why I can strongly recommend this book – the book has no frightening aspects to it at all, none of those long medical words you tend to find in certain books! A pleasant surprise was to find some poems Professor Mary Robertson had written which did make me laugh making me feel more relaxed about Tourettes and Sam.
A very child friendly book written by a lady who understands!!
Marks out of 10 – has to be a 10